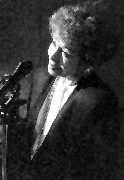 TERRY ASHE-CROFT
TERRY ASHE-CROFT (Senior Producer) is a co-founder and senior producer of STAGE SHADOWS PRODUCTIONS, INC. "Radio Like You've Never Seen It"™ and has appeared in many Off and Off-Off-Broadway and regional theaters. She created the role of Edith in the U.S. premiere of Joe Orton's The Good and Faithful Servant at the Actors Playhouse and has performed in Lysistrata, As You Like It, Ladies in Retirement, War Games, Moon in the Man, Pericles, Don Juan in Hell, Frankenstein, Towards Zero, among others. She has produced and performed in many Stage Shadows audio theatre productions, and directed four. She thanks the Museum of Television & Radio for its generosity to the Stage Shadows project, her partners Esmée and Robert Kilbridge and all who have contributed their talents and skills.
---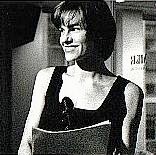 Esmée
Esmée (Senior Producer) is a co-founder and senior producer of STAGE SHADOWS PRODUCTIONS, INC. "Radio Like You've Never Seen It"™. Esmée co-produced all of Stage Shadows audio theatre productions and has performed in and directed many. Heartfelt thanks to all who have contributed to these fun shows. Esmée worked in TV and film production for seven years. Most recently she was at Law & Order for three seasons. Now, she is shooting her first digital, documentary feature about her family and their success using alternative medicine. She was assistant director of the three features River Red, Miriam, Adverse Possession and the short, Foggy Day In Virginia. Esmée is a member of The Players and New York Women in Film & Television.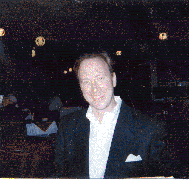 ROBERT KILBRIDGE
ROBERT KILBRIDGE (Senior Producer) is a co-founder of STAGE SHADOWS PRODUCTIONS, INC. "Radio Like You've Never Seen It"™. Over the past five years, he has produced, directed and acted in over 50 audio dramas. With his partners, he is developing content and techniques to webcast original cyberdrama over the Internet. He has appeared in many radio plays including Peabody Award Winning Arch Oboler's play Cat Wife with the unsinkable Tammy Grimes and Brian Murray, as well as commercials, regional theatre, Off and Off-Off-Broadway, television and several feature films, including The Paper, Silverado, Red Dawn, and as 'Red Dick Corpse' in Lust in the Dust, starring the inimitable Divine. Robert had a featured role in Canyon Road; a regional soap shot in Santa Fe, New Mexico, and created the voices for several award-winning voice over campaigns. He performed in Where I'm Headed at Theatre Row Theatre, winner of the 21st Century Playwrights Competition, as well as the prize winning I Dream Before I Take the Stand by Arlene Hutton at the Edinburgh and New York International Fringe Festivals, as well as in Charleston, South Carolina at the Piccolo Spoletto. (I Dream… was recently directed by Terry Ashe-Croft for WFUV 90.7 FM in New York). His play, The Garden Party, produced for the American Living Room Series by the tiny mythic company in New York, is the basis of a series of plays based on forbidden texts. Mr. Kilbridge is a member of The Players, the oldest theatrical club in the country, The Journey Company, and the late great Alice's Fourth Floor.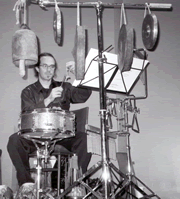 REX BENINCASA, World Music Percussionist
REX BENINCASA (World Music Percussionist) has been a freelancing drummer and world music percussion specialist in New York for 22 years. Along with hundreds of television/radio soundtracks and commercial recordings, he has performed with The Pittsburgh Symphony Orchestra, the New Music Consort, Flamenco Latino, Carlota Santana Spanish Dance, Andrea DelConte Danza Espana, Pilar Rioja, the Grammy Orchestra, Amanecer Flamenco Progressivo, The Pittsburgh Ballet, The Sacramento Ballet, and the Merce Cummingham Dance Company. Rex has recorded albums and movie soundtracks for Christine Lavin, Foday Musa Suso, Philip Glass, Conversion, Sesame Street, NFL Films, The Sons of Sepharad and The Gerard Edery Ensemble. Mr. Benincasa likes all kinds of music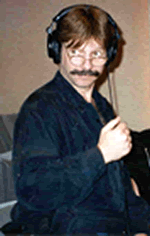 ADRIAN COSENTINI, producer of Classic Radio on 90.7 FM WFUV
WFUV 90.7FM
ADRIAN COSENTINI (former Co-producer and Chief Audio Engineer) has spent the past sixteen years as an audio engineer. During that time he has done work for all the major television and radio networks. At one time, he was the chief audio engineer for the Museum of Television and Radio and was the chief audio engineer for the Rodgers and Hammerstein Archives of Recorded Sound. He has worked on recordings for Columbia, RCA, Warner Bros. and Koch International. He also has a nine-year relationship with WFUV-FM as engineer and producer of Classic Radio.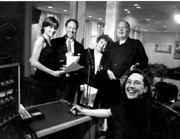 JOHN SNYDER
JOHN SNYDER(former Sound Environment Designer and Performer) During a portion of his high school teaching career, John became interested in electronic music and often gave seminars on the subject for special "humanities" days. Later on he taught analog synthesizer theory and techniques. From 1972 until around 1992 he composed and performed avant-garde electronic music, sometimes incorporating the use of laser light images. During this period he worked with many analog synthesizers, tape delay devices, the theremin, and a laser scanning device. He has collaborated with avant-garde jazz composer/performer/multi-instrumentalist Joe McPhee, primarily in Europe in the 1970's at various avant-garde jazz clubs and festivals. Three recordings document this work: Pieces of Light on CJR, The Willisau Concert and Rotation on Hathut. During the summer of 1986 he accidentally met the Australian Aboriginal wind instrument, the didjeridu. There was a deep, inexplicable resonance with this device and he immediately realized he had to own and play this amazing instrument. Thus began his present journey into the use of traditional indigenous instruments. Since 1989 he has been performing with the didjeridu and teaching others basic playing techniques at The New York Open Center, Juilliard, at various workshops around the country and privately. Having loved radio since childhood, John was briefly involved in Radio and TV at Syracuse University, working on the University station WAER. Three years ago he was happy to join up with Stage Shadows, drawing upon all of his experience with music and theater to accompany live radio/audio drama.