Stage Shadows Productions, Inc.
"Radio Like You've Never Seen It!"™
Peabody Award Winning Arch Oboler's play
Cat Wife

October 27th, 1998, in a special hour of live radio drama, as part of the Museum of Television & Radio's Fourth Annual Radio Festival and broadcasts the show on NYC's WFUV 90.7FM Classic Radio on November 7, 1998.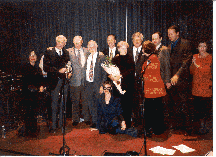 Three-time Drama Desk Award winner Brian Murray assays the Boris Karloff role and two-time Tony winner Tammy Grimes plays the title role. Rosemary Hopkins directed the production, which featured live sound environments designed and performed by John Snyder, and live original music composed and performed by Joseph Nugent. The program was recorded live and broadcast November 7, 1998 over WFUV 90.7 FM on the Sunday Classic Radio hour produced by Adrian Consentini, chief audio engineer for Stage Shadows.
Mr Murray received both the Outer Critics and Drama Desk awards for Travels With My Aunt. Most recently he has appeared in Twelfth Night at Lincoln Center; Long Day's Journey Into Night with Irish Repertory and Misalliance at Roundabout. Mr Murray has directed on and off Broadway . His extensive radio and recording career began with the BBC.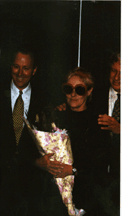 Ms Grimes is renowned in theatre for her extensive work in both musicals and plays. Winner of two Tony awards, (Unsinkable Molly Brown and Private Lives and a Theatre World award for Look After Lulu. She has starred on and off Broadway in Clerambard, High Spirits, Orpheus Descending, A Month In The Country, the musical Mademoiselle Colombe, California Suite, 42ND Street, A Little Night Music and her own Tammy Grimes In Concert. She has had an extensive recording and radio carreer and performed in many CBS Mystery Theatre radio plays produced by Hyman Brown, at whose request she played "all the Queens" - of Egypt, Scotland, England and France.
This is the second year Stage Shadows has participated in MTV&R's Annual Radio Celebration.
Cat Wife was recorded at The Museum of Television and Radio located at 25 West 52nd Street at Fifth Avenue. The public is cordially invited to be part of the studio audience at all Stage Shadows productions. Reservations are strongly recommended. Stage Shadows Reservations number is 212/604-4612
---
Peabody Award Winning Arch Oboler's play Cat Wife

directed by Rosemary Hopkins
Tuesday Evening, October 27th, 1998

Stage shadows archivist Brian Hochberg notes that Cat Wife was originally broadcast June 17, 1936 and starred Boris Karloff. Cat Wife was the second script that Arch Oboler wrote for Lights Out, the series created by William Cooper. It was extremely well received and was re-aired on the NBC network on February 17, 1937 and again on April 6, 1938 and on January 14, 1943.
All rights of any nature whatsoever are reserved by the Arch Oboler Estate. Any unauthorized duplication is a violation of applicable laws.