Please join our invited studio audience as
STAGE SHADOWS PRODUCTIONS, INC. "Radio Like You've Never Seen It!" presents a very special evening of live audio drama on Friday, March 31, 2000, at 7PM at The Museum of Television & Radio, in mid-town Manhattan.
Terry Ashe-Croft, Esmée, Robert Kilbridge

RECORDING NEWS - MICHAEL ALLINSON IS "ORWELL"
ON FRIDAY, MARCH 31ST, 2000 AT THE MUSEUM OF TELEVISION & RADIO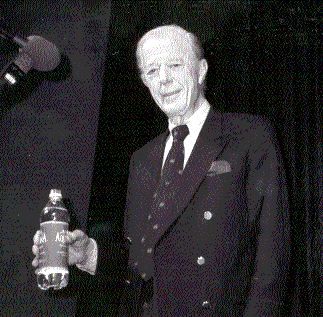 And simulcast on NYC's WFUV 90.7FM Classic Radio June 3, 2000 11-midnight.
Distinguished Broadway and West End actor Michael Allinson recreates his definitive performance as George Orwell, the brilliant author of Animal Farm and 1984, for Stage Shadows Productions' next live recording on Friday evening, March 31, from 7 to 8 P.M. at The Museum of Television & Radio in midtown Manhattan. Author Mark Weston has adapted his play, Meet George Orwell especially for this Stage Shadows production, directed by Michael Alexander, before a studio audience with original music and live and digitally-mastered sound effects.
Mr. Allinson's extensive stage career encompasses major roles in the classics (Beaux Stratagem, Henry IV Part I, The Importance of Being Ernest, among many others); and in contemporary musicals and plays: Broadway appearances include "Henry Higgins" in My Fair Lady, Shadowland with Nigel Hawthorne, Oliver, An Ideal Husband; Off-B'way, The Importance of Being Ernest, Orton's The Good and Faithful Servant. His extensive regional and national credits include "Herr Schultze" in Cabaret with Joel Grey, Sleuth, and The Best of Friends.
Author Mark Weston's works include Giants of Japan: The Lives of Japan's Greatest Men and Women (1999), The Land and People of Pakistan, and articles for the Washington Post and Los Angeles Times. He has been a lawyer for ABC TV and a journalist for ABC News.
Michael Alexander has directed for stage, film, opera, video and TV. He has been associated with and directed the play Meet George Orwell, starring Mr. Allinson in many theatres since its inception in 1994, in this country and in the U.K.
Original music by John Bowen.
Live sound design by Liz Jennings.
The public is welcome to be Stage Shadows studio audience at this audio premiere at
The Museum Theatre, 25 West 52nd Street between Fifth and Sixth Avenues, from 7 to 8 P.M.
Stage Shadows Reservations and Information Line is (212) 604-4612.