Stage Shadows Productions, Inc.
"Radio Like You've Never Seen It!"™
CITY OF SHADOWS: ANNE
Stage Shadows Productions, "Radio Like You've Never Seen It!"™, recorded June 22, 1999 at The Museum of Television & Radio and broadcast September 4, 1999 on WFUV 90.7 FM, Stage Shadows performed City of Shadows: Anne. The third piece of a World War II dramatic cycle, set in Lyons, France then under the notorious rule of Klaus Barbie. In this third episode of the series, the destinies of Anne and of Victor Petion and Paul Vadier, the men who love her, unfold in the midst of wartime treachery and death.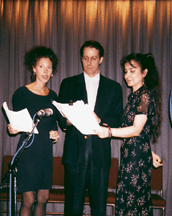 ROBERT KILBRIDGE directs his third City of Shadows episode. Live sound environments and original music designed and performed by JOHN SNYDER, with SFX assistance and additional music composed by Ethan Yankowitz. ADRIAN COSENTINI, producer of WFUV 90.7 FM's Saturday evening program Classic Radio, is chief audio engineer and sound designer. The live recording session also features "The Back Staircase," a interview segment hosted by New York literary agent DONALD MAASS.
CHRIS GANNON hosts the one-hour program.
Mr. Pennino's theater credits include The Casual Comedy (Theatre Row), Contagion (Royal Court workshop) and, coming this year, A St. Petersburg Tale produced by Gorilla Rep. TV credits include episodes of the TV series Ludlow Street produced by Silverback Productions. He is a member of the Associate Artists of The Century Center for the Performing Arts, the Innisfree Playwrights Workshop and Dramatists Guild of America.
Guests are strongly urged to make a reservation by calling 212-604-4612, and should arrive at The Goodson Theatre at the Museum by 6:45 P.M. The MT&R is located at 25 West 52nd Street between Fifth and Sixth Avenues.
Admission is FREE if you are on our reservation list.